Seagold Ajwa Mocha
Chocolate Chip Cookies with Walnuts
<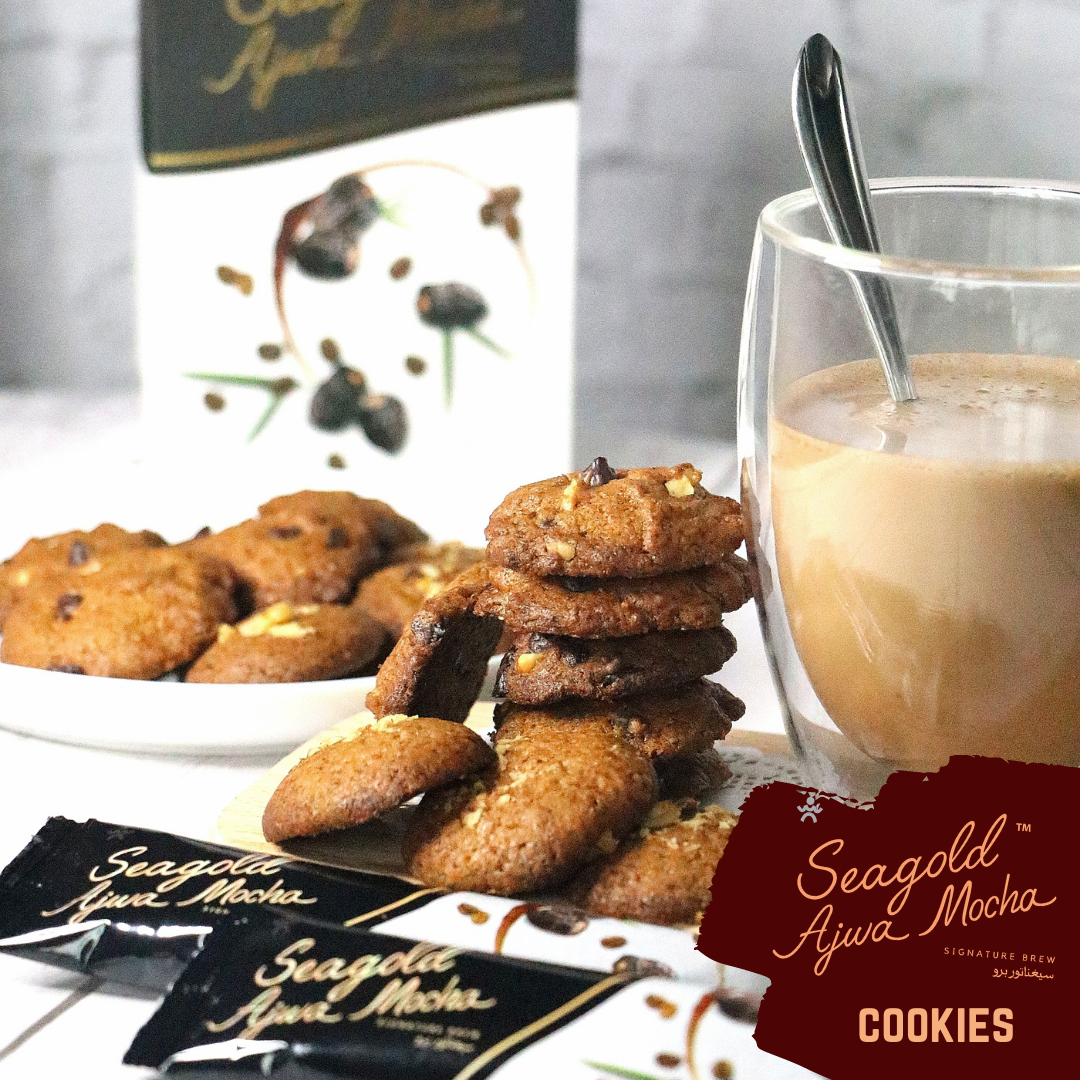 Ingredients:
100g Unsalted butter (room temperature)
60g Powdered sugar
25g Egg
2g Vanilla extract
110g Cake flour
2 sachets Seagold Ajwa Mocha
100g Chocolate Chips
10 pieces Walnuts (diced)
How to Prepare:
First, preheat the oven at 170°C.
Using a whisk, stir the butter in a large bowl until slightly creamy.
Next, mix in the powdered sugar and continue stirring until mixture is light and creamy.
Add in the egg and vanilla extract and stir until mixture becomes thick and creamy.
Add in Seagold Ajwa Mocha and sift in the cake flour.
Then, use a spatula to gently fold and mix the mixture until it becomes a soft dough.
Add in the chocolate chips and walnuts and mix evenly.
Using a teaspoon, scoop out some dough and place it into a baking tray lined with baking paper.
Bake in the oven at 170°C for 15 minutes or until cooked.
Remove from oven and let aside to cool.
Enjoy!
Tips:
When placing the dough in the baking tray, leave some gap in between the dough as they may expand.
Store the cookies in an airtight container when they have completely cooled down. Do not store them when they are still warm.
<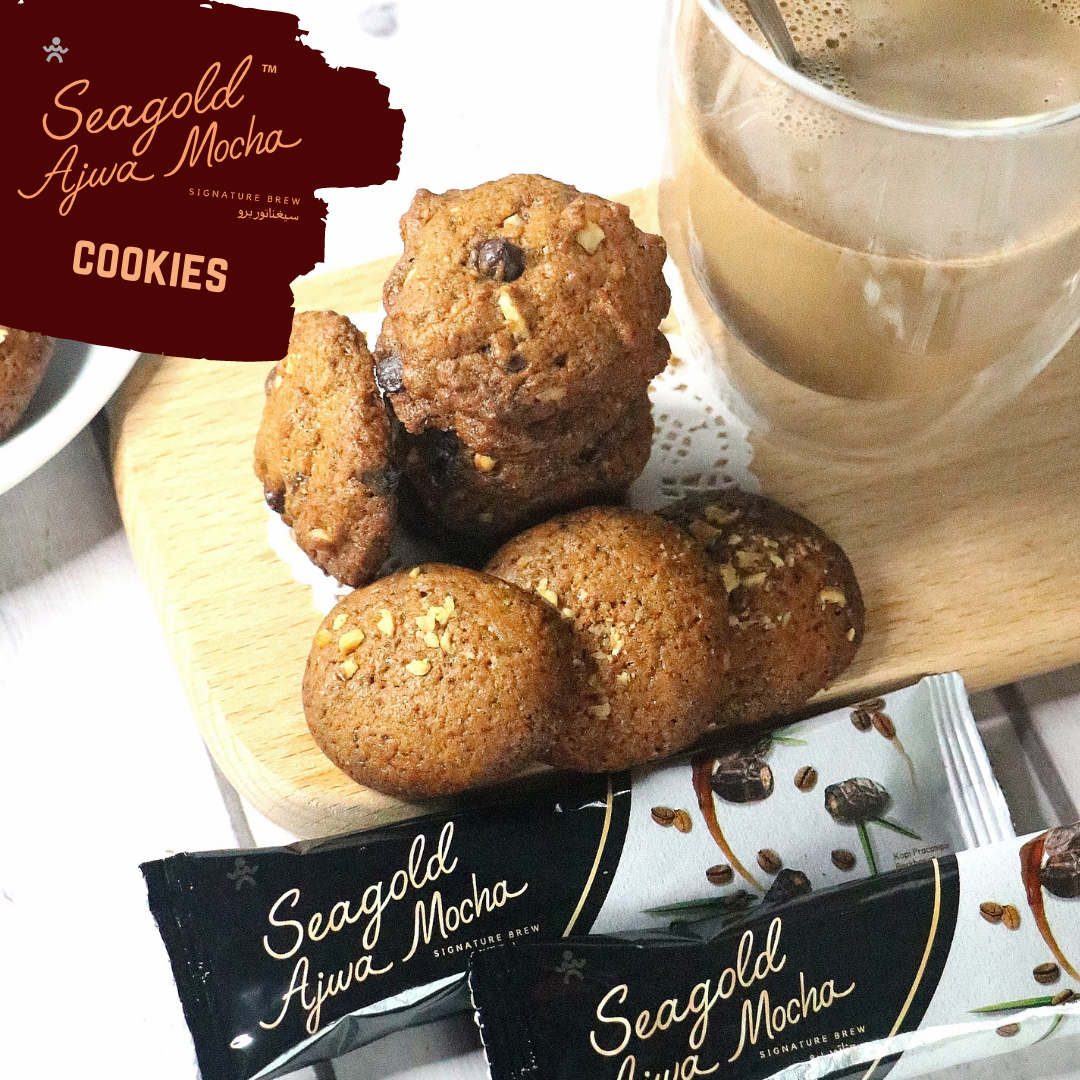 Biskut Seagold Ajwa Mocha dengan Cip Coklat dan Walnut
Bahan-bahan:
100g Mentega tanpa garam (suhu bilik)
60g Gula aising
25g Telur
2g Ekstrak vanila
110g Tepung Kek
2 sacet Seagold Ajwa Mocha
100g Cip Coklat
10 keping Walnut (potong kecil)
Cara Penyediaan:
Panaskan ketuhar pada suhu 170°C.
Kemudian, pukul mentega sehingga menjadi krim lebut.
Masukkan gula aising dan pukul sehingga lembut dan sebati.
Seterusnya, masukkan telur dan ekstrak vanilla dan pukul sehingga pekat dan berkrim.
Masukkan Seagold Ajwa Mocha dan menapis tepung kek.
Kemudian, gunakan spatula untuk melipat campuran dan gaul sehingga menjadi adunan lembut.
Masukkan cip coklat dan walnut dan gaul rata.
Gunakan sudu kecil dan cedok keluar adunan dan susun satu demi satu dalam dulang pembakar yang dilapiskan kertas pembakar.
Bakar di dalam ketuhar pada suhu 170°C selama 15 minit atau sehingga masak.
Keluarkan dari ketuhar dan biarkan hingga sejuk.
Sedia untuk dinikmati!
Tip:
• Semasa meletakkan adunan ke dalam dulang pembakar, tinggalkan sedikit ruang di antara adunan kerana ia akan mengembang semasa dibakar di dalam ketuhar.
• Simpan biskut dalam bekas kedap udara apabila ia telah sejuk sepenuhnya. Jangan simpan jika masih panas.
金海参椰枣摩卡
核桃巧克力片饼干
材料:
100克无盐黄油 (室温)
60克糖粉
25克蛋
2克香草精
110克蛋糕粉
2 包金海参椰枣摩卡咖啡
100克巧克力脆片
10 粒核桃 (切块)
制作方法:
首先,将烤箱预热至摄氏170度。
把黄油放入大碗内,然后使用打蛋器将黄油打发至润滑。
然后,将糖粉倒入搅拌至轻盈柔顺。
加入蛋和香草精,搅拌至浓郁柔滑。
加入金海参椰枣摩卡咖啡,以及筛入蛋糕粉。
接着,使用刮刀轻轻搅拌,直至形成一个软面团。
加入巧克力脆片以及核桃,然后搅拌均匀。
使用一茶匙取出一些面团,然后将之放在垫有烤纸的烤盘中。
放入烤箱中,以摄氏170度烤15分钟,或直至烤熟为止。
烧烤完毕后,将饼干取出,放在一旁冷却。
尽情享受!
温馨小贴士:
当您将面团放在烤盘中,请确保面团与面团之间留有一些间隙,因为面团在烧烤的过程中会稍微膨胀。
在饼干完全冷却后,将其储存在密闭的容器中。 请勿在饼干冷却前储存。