SEAGOLD AJWA MOCHA AGAR-AGAR
Want some ideas on what to prepare for iftar this Ramadan? Check out our Seagold Ajwa Mocha Agar-Agar! Not only is it delicious, but it is also packed with the goodness of ajwa dates and Seagold. Known as the King of Dates, ajwa dates have long been known for their properties and contain an abundance of health benefits. Ajwa dates can also help keep you energized throughout the holy month.
Try out our Seagold Ajwa Mocha Agar-Agar today and let us know what you think!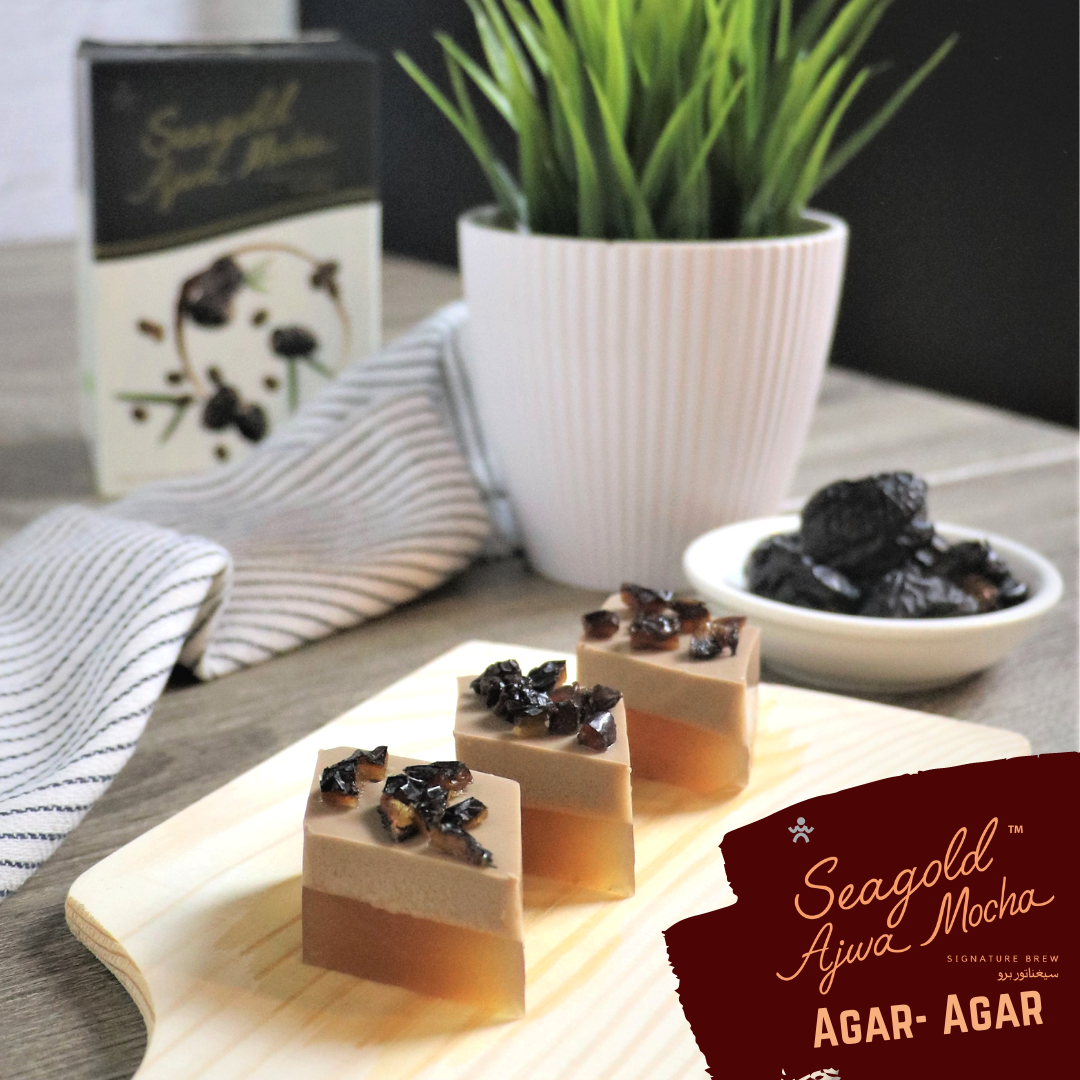 Ingredients:
20g agar-agar strings
4-5 strips pandan leaves
2.5 litres water
100ml coconut milk/santan
1 cup sugar
A pinch of salt
1 sachet Seagold Ajwa Mocha
Steps to prepare:
Wash the agar-agar, then bring it to boil in a pot filled with 2.5 litres of water.
Add in the pandan leaves and let it boil for 10 minutes.
Once the water turns light green, remove the pandan leaves.
As soon as the agar-agar dissolves, add sugar into the mixture (you may add in more sugar depending on your preference).
Then, mix in Seagold Ajwa Mocha, salt and coconut milk/santan.
Bring it to a gentle simmer over medium-low heat and keep stirring for 2 - 3 minutes until the sugar and coconut milk have fully dissolved.
Pour into a mold or shallow dish and set aside to cool at room temperature (do not refrigerate before it sets).
Once it has set, cut into your desired shapes. For garnishing, you may slice some ajwa dates into pieces and sprinkle on top of the agar-agar.
It is now ready to be served.
Tips:
You may choose to use any kind of coconut milk, whether freshly grated or prepacked. However, if you are using freshly grated coconut milk, be sure to extract the coconut milk without adding too much water into it. Too much water may dilute the coconut milk, causing the coconut milk to sink underneath the agar-agar.
Do not refrigerate the agar-agar before it sets, because it takes time for the coconut milk and Seagold Ajwa Mocha to separate into two layers. If the agar-agar is refrigerated before it sets, it will accelerate the gelling process of the agar-agar before the two layers can be separated in time.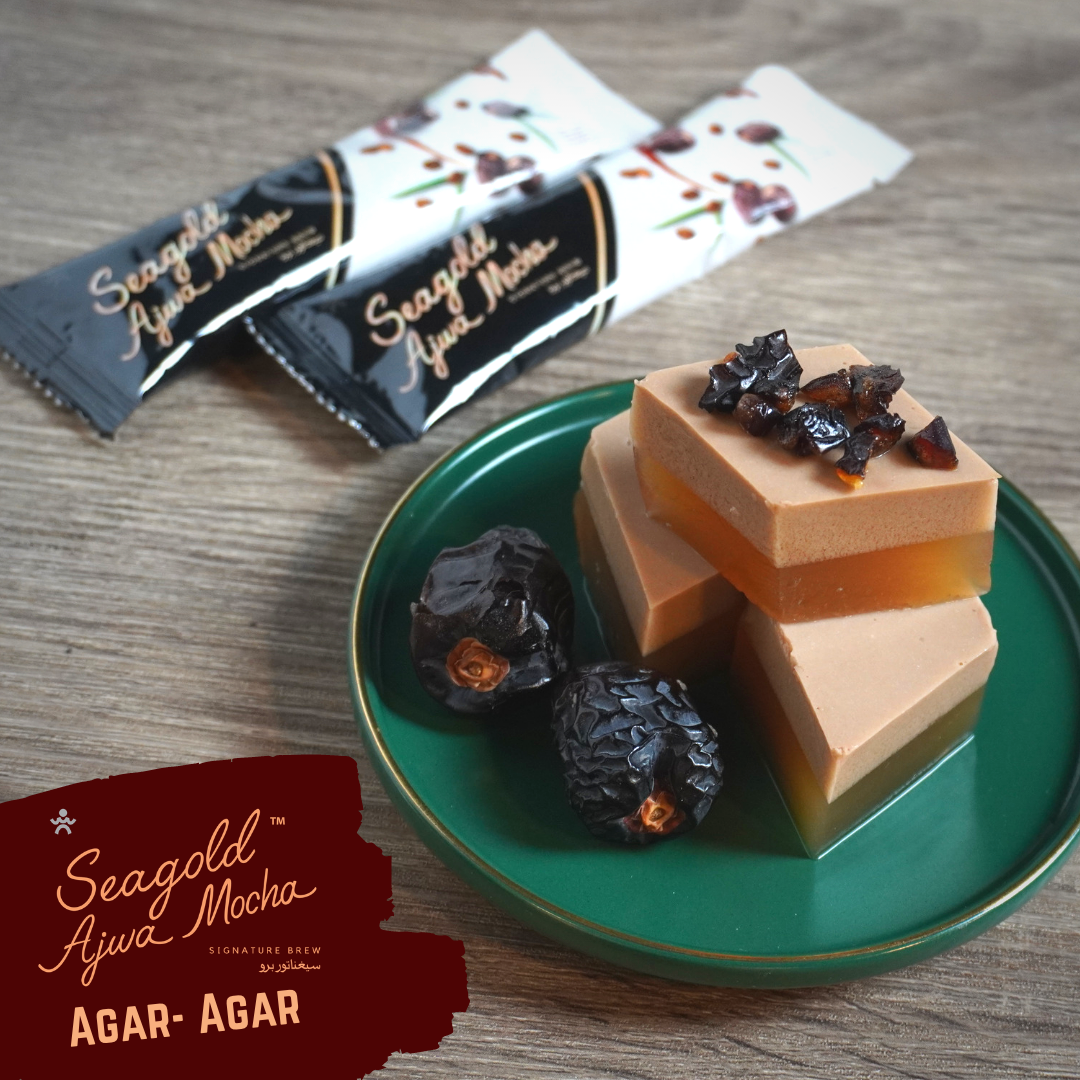 Bahan-Bahan:
20g agar-agar
4-5 helai daun pandan
2.5 liter air
100ml santan
1 cawan gula
Secubit garam
1 sacet Seagold Ajwa Mocha
Cara Penyediaan:
Cuci agar-agar dan masukkan ke dalam periuk yang berisi 2.5 liter air.
Kemudian, masukkan semua daun pandan dan biarkannya mendidih selama 10 minit.
Apabilah air berubah menjadi hijau muda, keluarkan daun pandan.
Sebaik sahaja agar-agar larut, masukkan gula (boleh tambah gula lagi mengikut kesukaan anda).
Kemudian, masukkan Seagold Ajwa Mocha, garam, dan santan.
Tukar api kepada sederhana-rendah dan terus kacau sehingga gula dan santan larut sepenuhnya kira-kira 2 – 3 minit.
Tuang ke dalam acuan / loyang dan biarkan hingga sejuk pada suhu bilik (jangan masukkan agar-agar ke dalam peti sejuk sebelum ia menjadi keras).
Potong mengikut bentuk yang anda inginkan. Untuk hiasan, potong kurma ajwa kepada kepingan kecil dan taburkan di atas agar-agar.
Sedia untuk menjamu selera.



材料:
20克燕菜丝
4 - 5 片班兰叶
100克椰奶
1 杯糖
少量盐
2.5公升水
1包金海参椰枣摩卡
制作方法:
清洗燕菜丝后,将 2.5 公升水倒入锅里,加入燕菜丝,然后煮沸。
加入班兰叶,煮沸10分钟。
沸水一旦变浅绿色,即可将班兰叶取出。
燕菜丝溶化后,加入糖(可依据个人口味加入更多)。
然后,倒入金海参椰枣摩卡、盐以及椰奶。
调至中低火,不时搅拌2 - 3分钟,直至糖和椰奶完全溶化。
熄火,然后将溶化后的液状倒入燕菜摸具,确保室内温度之下放在一旁冷却(切记,在燕菜还未冷却前,请勿放入冰箱内)。
冷却后,将燕菜取出,然后切成您喜欢的形状。可选择将椰枣切成小块,撒在燕菜上作为装饰用途。
即时享用。
温馨小贴士:
无论是新鲜或包装椰奶都可使用。如果从椰果提取椰奶,请勿加入过多的水,因为这将使椰奶变稀,沉淀在燕菜底部。
燕菜还未冷却前,请避免将之放入冰箱,因为椰奶及金海参椰枣摩卡需要时间分隔两层。如果燕菜还未完全冷却,即放入冰箱,可加速冷却燕菜,导致椰奶及金海参椰枣摩卡不能及时分隔两层。